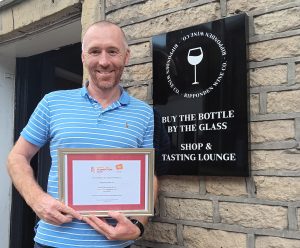 Ray Nicholls set up his own wine shop in Ripponden during covid, having previously worked as a store manager for Asda. The business has really taken off thanks to Ray's enthusiasm, expertise and passion for sharing his knowledge through his Wine Club and private tasting events. We caught up with him to find out about his motivation for supporting Happy Days and becoming a member of our Foundation Club for business supporters.
What made you decide to support Happy Days and become a Foundation Club member?
I've been inspired by the dedication and professionalism of the staff and volunteers involved in the charity and their determination to make a real and lasting difference. What I've noticed at Happy Days is how hard everyone works to support people in crisis in a way that encourages independence. It's that long term view that made me want to give a regular financial contribution to enable the charity to plan ahead.
Why do you think it's important for companies like yours to partner with local charities?
As a small independent local business, I know how important it is to have strong relationships with my customers and to create opportunities for them to experience my products and what I do. Happy Days benefits from partnerships with businesses like mine through the Foundation Club because it gives members a real opportunity to understand what they do and get involved in making a difference.
How do you see your partnership with Happy Days developing in the future?
Our support will go beyond membership of the Foundation Club. In fact, we've just launched a recycled gift bag initiative in store in aid of Happy Days. We all have used bottle gift bags in a drawer or cupboard at home. We're asking people to give them to us and we'll turn them into cash for Happy Days.  When customers come into the shop they can now choose a bottle bag from our pre-loved selection in return for a donation to Happy Days, instead of buying a new one.
We have also pledged 50% of the ticket sales from the sell-out BIG Christmas Tasting event to Happy Days which is a donation of £500. I'm also looking forward to following the charity's progress and I'm particularly excited about some of the exciting new developments they have planned.
What would you say to other businesses that might be interested in joining the Foundation Club?
Being a member of the Foundation Club is a great way for local businesses to give something back to their local community and to make a positive difference to the lives of people who are facing some of the toughest times of their lives.
To find out more about Ripponden Wine Company and upcoming events and tastings visit https://www.rippondenwinecompany.co.uk/
If you or your company would like to become a Happy Days Foundation Club member you can sign up here.